Fresh-Aire UV Air Purifiers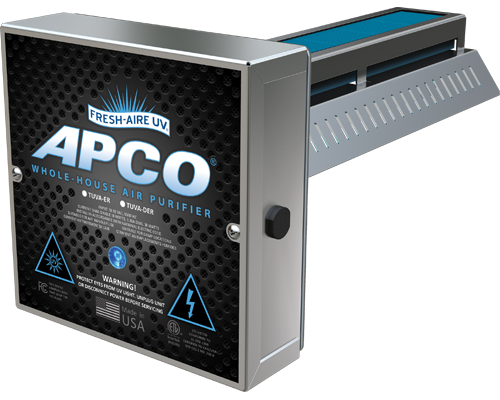 Everyone in your family is affected by the quality of the air in your home. According to the EPA indoor air is often five times more polluted than outdoor air. Fresh-Aire UV offers homeowners practical and solutions for air quality problems including odors, toxic chemical vapors, bacteria, viruses, and allergens. Unlike smaller room-sized air purifiers our products are installed in the central air system so they clean all the air in your home. Fresh-Aire UV isn't just for people with asthma or allergies; we all need clean air to be healthy and thrive. These products will also keep your air system clean and make it last longer.
APCO® whole-house air treatment systems detox the air as it is circulated by the HVAC system. They feature a unique combination of UV-C light and activated carbon which achieves unmatched microbial and odor reduction without producing any harmful ozone. This technology is particularly effective at reducing odor-causing volatile organic compounds (VOCs) which include toxic chemical vapors like formaldehyde and toluene.
APCO® systems are installed in the central air system where they continuously remove airborne contaminants as they pass by. APCO® technology is based on a process called photocatalytic oxidation (similar to the catalytic converter on cars). Germicidal UV-C light reacts with titanium dioxide infused carbon cells; this neutralizes VOC contaminants, leaving only harmless water vapor and CO2. This process leaves the carbon cells clean so they never fill up or need to be replaced. The result is clean, odor-free air throughout the home.
APCO Overview
Breath Easier